Do you want to easily share the mouthwash and get rid of the ugly bottles of commercial products? We've reviewed the most practical and stylish mouthwash dispensers.
A mouthwash dispenser is an inexpensive addition to radically improve the neatness and appearance of your bathroom. If you value elegance and cleanliness in your home, then you've probably been thinking of throwing away branded bottles with gummy green residues.
Besides the look, a mouthwash dispenser is quite convenient. You can better dose the amount of liquid that you will use in your daily mouth cleaning, leave no residue and allow a more hygienic sharing of the oral rinse.
In an office or restaurant where many people share the same cleaning product, the dispenser should be mandatory ( I believe this). Again, comfort, cleanliness and hygiene matter a lot.
Snapshot of The Best Dispensers
THE BEST FOR A LUXURY BATHROOM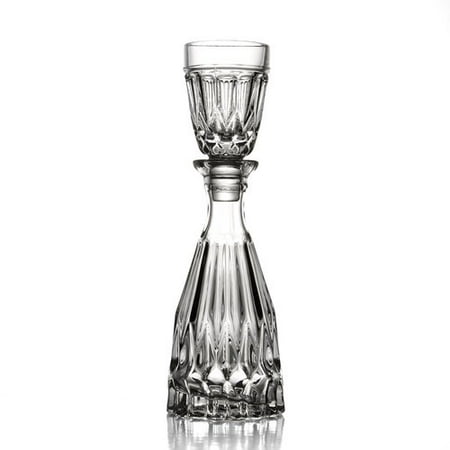 Crystal Clear Hamilton Mouthwash Decanter
Sleek and Classic, looks stunning over countertops
THE BEST TO SHARE MOUTHWASH IN YOUR OFFICE
Mouthwash Dispenser by Got Fresh Breath
The complete package for your office
Mouthwash Dispensers and Decanters Reviews
This review will be short and sweet!
There are mouthwash dispensers and mouthwash decanters, the last ones are usually a little bit more expensive. I did not include any mouthwash pumps, as you would still be using the same bottle the mouthwash came in.
I am sure you're figure out the ideal look for your bathroom, so you will decide to use a plastic or a glass mouthwash holder. You should also consider if you infants or toddlers in the house, running around. You can also find fine liquid dispensers that are made out of crystal, resin, porcelain, and ceramic. Meaning they will break easily.
Dispensers and Decanters for Your Home
mDesign – Mouthwash Dispenser and Cup Holder
The mdesign dispenser has the most modern and neat design. Its transparent tank is a perfect way to decorate your bathroom, regardless of your current color scheme. Unlike other dispensers it comes with a holder for disposable cups.
Some users highlight its trendy style or that it is much better than having a huge bottle of mouthwash over the sink.
Excellent price/benefit ratio, only a few bucks will simply improve the look of your home.
Mouthwash Decanters Reviews
If you must have luxury surrounding you at a reasonable price, these decanters would give you that feeling, without breaking the bank. Each of this mouthwash decanter looks so good, you'll be wandering why you never discovered them, until now.
Crystal Clear Hamilton Mouthwash Decanter Review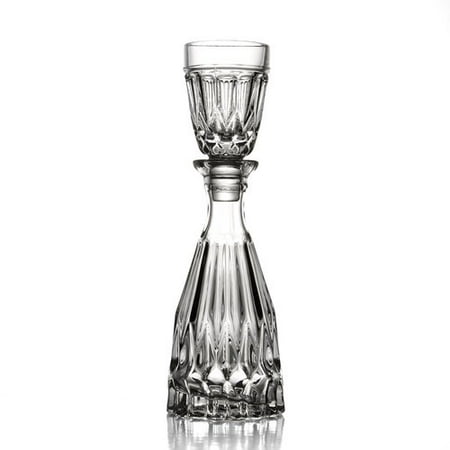 This one also reeks of pure luxury, and your bathroom would look much better with one in it. This crystal clear mouthwash decanter is from the legendary, Alexandria Collection. If you know fine glass hardware, you'll know that name.The bottle is about 9-inch high, and has the following measurement, 2 x 2 x 9 inches. Before using it, you're advised to wash it with warm water, and regular dish soap. Be sure to rinse it thoroughly, before pouring your mouthwash into it. Again, your biggest problem will be keeping it safe from guest touchy, feely hands. I would not advice you to get this one if you have kids at home, unless you have your own private bathroom.
Bormioli Rocco Dedalo Decanter Review
This might not be a familiar name to you, but some of your movie and music stars with impeccable taste, have glass hardware from this amazing Italian designer. This decanter mouthwash bottle might have people start thinking you're rich. Truthfully, this bad boy' can hold just about any fine liquid, including high priced cognac. It comes in a well crafted clear glass design, with stunning ridges architecture all around it. It has the following dimensions 3.8 x 3.8 x 9.5 inches, and weighs just about 2 pounds.
Crystal Clear Mouthwash Bottle Review
This is purely a crystal clear bottle. Truth be told, it would also make a good decanter to hold high premium alcohol drinks. It has an elegant look and feel to it! The Crystal Clear Mouthwash Bottle is designed to hold about 4-ounces of your good mouthwash.It has a uniquely designed stopper, which also can be used as a rinse cup. This product that holds liquid, has dimensions of 2.5 x 2.5 x 7.5 inches. Your only problem is determining how to keep your nosey guest hands out of your decanter mouthwash bottle.You can warn them all you want, people are just used to searching and touching stuff in other people's bathroom. It's a very nice looking mouthwash bottle, but how you keep it safe in your bathroom, will be up to you to figure-out!
Do not get these decanters, if you have kids around the house, or you'll be saying ouch' if it breaks. These are more personal mouthwash decanters, that only the most careful people should use.
Best Commercial Mouthwash Dispensers – With Cup Holder
The following two mouthwash dispensers are more appropriate for commercial establishments or households with a lot of residents. So if you've been busy romancing at night, and now you find yourself with multiple little ones running around your house, you need one of this mouthwash holder in your bathroom.
Mouthwash Dispenser by Got Fresh Breath Review
This is a larger version of the office dispenser reviewed below. It uses no batteries to function, and includes a side cup dispenser, for the mouthwash liquid. It has a unique shutoff mechanism, for exact measurements of mouthwash, every time its engaged. It has the following dimensions, 5.8 x 8 x 15.6 inches, while weighing about 3.8 pounds. You'll have to wall mount this product, and the hardware you need to accomplish that, is included in the delivery package.
It also has a locking mechanism and security key. This Mouthwash Dispenser by Got Fresh Breath, would compliment any fine commercial establishment, or large household home.
White Mouthwash Dispenser Mini Review
Do not be fooled by the word mini at the end of the name, as it only means it's not as large as the other model by the same manufacturer. This dispenser stands about 16 inches tall, while offering 7 inches in wideness. Make sure you have the space before getting this industrial version of a mouthwash dispenser. This is the type you'll find at a good and expensive Dentist office. It comes with all the hardware you need to install it to your bathroom wall, or hallway hall. Don't worry, the installation is very easy, and it only weighs about 3.4 pounds. It also comes with a cup dispenser.
The dispensing mechanism is all mechanical, no batteries required here! You also get a locking system, with a security key, if you want to monitor what the kids would do around it. I would recommend this model for those with a large household, a dentist office, a nursery or elementary school, and other fine commercial establishments. This might even work in a high end restaurant that serves a lot of garlic dishes.
Latest posts by Anne Dysart
(see all)